Harpenden Austausch 2014
Hinzugefügt am 12. Januar 2015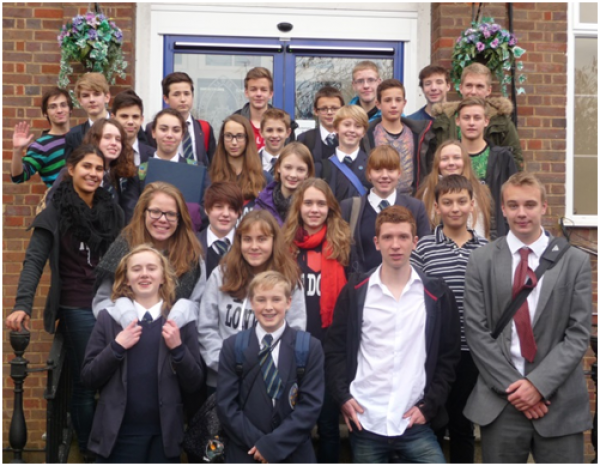 Our trip started early in the morning in Alzey where we took a coach to Frankfurt Hahn airport. Some of us had never flewn before - so it was very exciting!
We landed in Stansted and took a bus to Luton where we were picked up in minibuses and driven to Sir John Lawes School. On arrival we met our exchange partners and were happy that we were welcomed so warmly. After lunch we visited a few lessons and then accompanied our partners home to meet their families. The next day we spent at school and could collect many interesting impressions: registration, uniforms, the fantastic media equipment and  subjects like drama and IT were new to us. The next day we spent with our exchange partners in St. Albans. They had prepared presentations in English and in German on important buildings and things in St. Albans, like the cathedral which we visited after a short  break. We enjoyed lunch in the Waffelhouse and had a closer look at the Roman traces in St. Albans, which reminded us much of Alzey's Roman past. The weekend was spent with our host families which we enjoyed greatly, as it meant that we could immerse in English life and culture completely. On Monday we went to London and explored platform 9 ¾ at King's Cross. After that we climbed all 311 steps of the Monument and enjoyed the spectacular view of London's skyline. We took the boat Greenwich and walked to the Royal Observatory, had a look at the famous Foot Tunnel, admired the Cutty Sark and the Prime Meridian. Then it was time to return to Big Ben. We looked at Whitehall and Buckingham Palace and then took the Tube to Oxford Circus where we could do some shopping. Happy, exhausted and carrying each a bag of souvenirs we returned "home" to Harpenden for our last night there. We were sad to go and are looking forward to the second part of the exchange when our partners will visit us in April.
All in all it we had a great time in Harpenden and will not forget it.
Eingestellt von Schülern des Harpendenaustauschs (Br)