Harpenden Exchange 2019
Hinzugefügt am 03. April 2019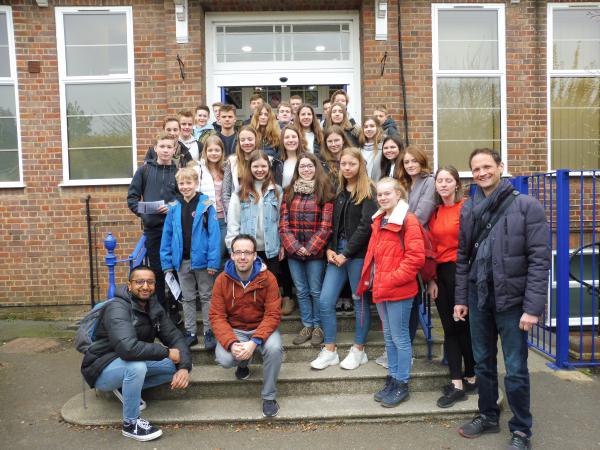 Harpenden Exchange 2019
After our English friends had visited us in Alzey in February, it was now time to travel to England. On 22nd March we met in Alzey at 8am and drove to Frankfurt Hahn, from where we took a plane to London Stansted. After a nice flight with a rough landing we arrived in England at around 11.30am. A bus from our partner school, Sir John Lawes School in Harpenden, picked us up and drove us to school. There we met our English friends again during the lunch break. Our exchange partners showed us the school, which consists of many buildings because each subject has got its own building, and the school goats! We then joined our partners for two lessons in the afternoon and then went to our new homes. Some of us spent Friday evening just talking to our host families or watched a movie, but Leon-Maurice even went to London with his exchange family to watch the England football team play at Wembley!
            On Saturday and Sunday, we had two days with our host families. A lot of us went to London to do some sightseeing and shopping. Emma went to the Tower of London, which is not just a tower, but a whole castle, to see the Crown Jewels and later to Buckingham Palace. Jona, who had two exchange families, took a boat trip on the River Thames to Greenwich and then listened to the buskers at Covent Garden. Amelie's family took her to Windsor Castle and, believe it or not, the Queen was there! In the meantime, Ann-Sophie bought some souvenirs for her family and went ice-skating with Muriel, Johanna, Amelie and their English friends in the evening. Then they went to Nando's, which is really famous for its delicious chicken, and played some board games.
            On Monday, we joined our English partners in school. School days are a little bit different in England because all pupils have to wear school uniforms! There is also no bell before and after the lessons and the teachers – not the pupils – have their own rooms. There are also different subjects which do not exist in Germany, like Drama or Photography! School starts at 8.40 in the morning and ends at 3.30 in the afternoon.
            On Tuesday, Mr Unselt and Mr Wagner took us to London. Although most of us had already been there at the weekend, we saw a lot of interesting sights. We drove by train to Blackfriars, a station on a bridge across the River Thames. From there, we walked to the "Walkie Talkie", the nickname for a skyscraper in London. We went up with the elevator and enjoyed the amazing view from the 35th platform. The weather was really great, so you could see the Shard, the Tower of London, Tower Bridge, St Paul's Cathedral and much more! Then we went to Borough Market, a cool street market, to eat lunch. Most of us tried delicious burgers – yummy! Then we walked along the River Thames and crossed Tower Bridge. From there we took a boat to Westminster. There we saw the Houses of Parliament, where a lot of people protested for and against Brexit, and Westminster Abbey, where a lot of kings were crowned. Then we walked along Whitehall and saw the house of the Prime Minister before we stopped at Trafalgar Square. At Leicester Square, where you can buy cheap musical and theatre tickets, we had more time to shop for souvenirs before we saw the amazing lights of Piccadilly Circus. From there, we caught the Underground to King's Cross, where we saw platform 9¾ from the Harry Potter films. We arrived back in Harpenden, tired but happy, at 7.30pm.
           On Wednesday, we went to St Albans, a town close to Harpenden, by train with our English friends. Mr Silva took us on a treasure hunt, which we did in groups of four – always two German and two English students together. After that we visited the famous St Albans Cathedral where the German pupils had to translate a text from German to English and the English pupils had to read it out in German. After finishing the treasure hunt we had 90 minutes to do some shopping, eating and sightseeing. A lot of us ate at Nando's or bought something at St Albans Market. In the end we all met at the clock tower to compare the results from the treasure hunt. Not everybody had all the answers, but our teachers were nice and gave us all some English crisps and chocolate. After we had talked, eaten and taken a group picture, we walked back to the train station and travelled back to Harpenden.
           Thursday was our last day of the trip. We had to get up very early because the bus picked us up at 4am and drove us to Stansted Airport. From there we took the plane to Frankfurt Hahn and the bus back to Alzey, where we arrived at about 12.15pm. All in all, it was a great week, where we saw a lot and made new friends! Thank you so much to our English friends for an amazing week! I hope we will see you all very soon!
- written by Jona Hees, Emma Kopp, Amelie Ruhr, Kai Schünemann, Ann-Sophie Wengler and Mr Wagner
Eingestellt von Herr Wagner