USA Exchange with Dennis-Yarmouth Regional High School, Massachusetts
Hinzugefügt am 18. April 2019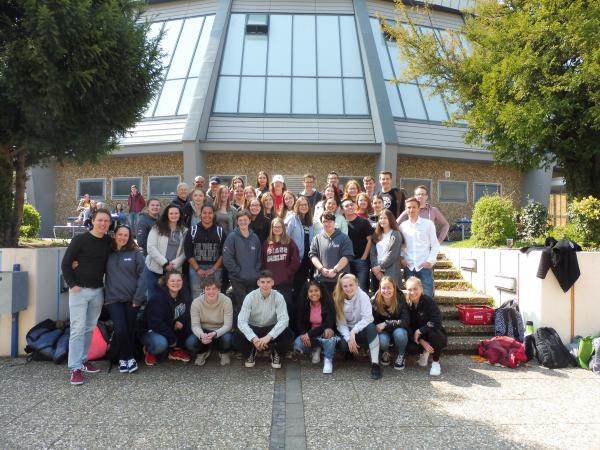 US Exchange 2019
On 12 April, our guests from Cape Cod, Massachusetts, arrived in Alzey, after they had previously spent a week at the North Sea and in Hamburg. They were welcomed by our students from Years 11 and 12 and went altogether to the Rocknacht on Friday evening, where the DY Safespots performed a great medley and introduced themselves to our school. The nineteen students and three teachers went on to spend the weekend with their host families; some went to Heidelberg, Mannheim or Frankfurt, while others explored the local area around Alzey.
            On Monday we all went to school together before we had a lunchbreak in the playground. After that the Americans explored Alzey and re-joined their partners in the afternoon. On Tuesday, we all took a trip to Frankfurt and enjoyed a lovely spring day in Mainhattan. We went up the Main Tower first and later walked to the Alte Oper, Zeil, Kleinmarkthalle, Paulskirche, Römer and crossed the Main to enjoy the view of the skyscrapers.
            After a long and interesting day in Frankfurt, we returned back to school on Wednesday before heading to Mainz in the evening to go bowling, since it was our last evening together. Our friends left Alzey on Thursday morning before travelling back to the States. We want to thank all of them – especially the teachers Ms Colton-Mund, Ms Durley and Mr Morrison – for visiting us and we cannot wait to see you again in September, when we will travel to Boston, New York City and of course our partner school DY (Dennis-Yarmouth Regional High School) on Cape Cod! See you very soon!
Eingestellt von Herr Wagner