Harpenden Exchange 2017
Hinzugefügt am 17. Februar 2017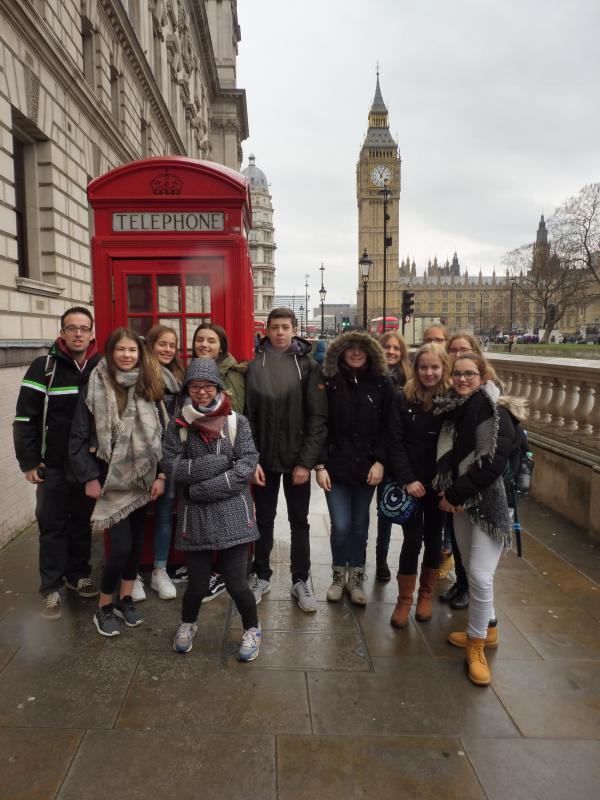 Harpenden Exchange (February 2017)
February 1st was the day we have all been waiting for for a long time: It was the day we were flying to Great Britain! We met at 3:45am in the morning in Alzey and from there went to the airport, and we were all very tired. When we arrived in London Stansted, we were greeted by typical English weather. From the airport we were taken to our two exchange school in Harpenden – Sir John Lawes School and Roundwood Park School – by bus and taxi. There we realised that the English are driving on the other side of the road! When we arrived at school, we ate some cookies and tea (with or without milk) with our exchange partners. We said hello, played a little quiz and then went to two school lessons with them. The school day ended at 3.20pm, so much later than in Germany, and we spent the rest of the day with our guest families. That evening, everybody went to bed early because we had a long first day with many new impressions!
            On the second day we were all very excited because we knew that we were going to London! At the train station the Sir John Lawes pupils and Mr Unselt met the Roundwood Park pupils and Mr Wagner and we waited for the train; which was a few minutes late (Trains are never late in Germany!). When we got off the train in London, we saw a beautiful panorama of the city. Then we saw Elizabeth Tower and the Houses of Parliament as well as Westminster Abbey, which is a beautiful and big cathedral. Did you know that Queen Elizabeth II was crowned there? From there, we went to 10 Downing Street, where Prime Minister May lives. When we were there, a car drove past us and we were very excited, but she was not in the car. Our next stop was the National Gallery, where we looked at some paintings before we moved by Underground – Was it eastbound or westbound? The District or the Circle Line? – to the Caesar Statue and the Tower of London. It was amazing because when you took the right picture you had a photo of the past (the old Tower) and the future (the modern skyscrapers)! From there, we crossed Tower Bridge, one of the highlights and walked a long way to Borough Market, a market where you can buy food from many countries. We split up and ate what we wanted to. But we could not just eat – no – there you could also drink whatever you wanted to! That was pretty nice! After that we walked to the Shard. It is the highest building in the European Union and the second highest building in Europe! It is 310m high and the highest floor is 243m above the ground. It has got 87 floors, but you can only use 72 of them. This experience made our day because the panorama was so impressive. Our next little break was at the theatre of Shakespeare, the Globe Theatre. It is not the original one, but it looks just like it. Then we crossed Millennium Bridge and saw a sunset of London and I tell you it was totally worth it! Wow! We then went to another church, St Paul's Cathedral and then went to Starbucks to buy some drinks. Our last stop was to see Platform 9¾ from the Harry Potter movies. We arrived back in Harpenden at 7.30pm and our exchange partners were already waiting there to pick us up. I would say that it was an exciting and beautiful day because we got to see many famous places that London has to offer. We did not regret walking that much and would recommend the city to everyone who thinks about visiting it!
            On Friday, we had a complete school day at Sir John Lawes School or Roundwood Park School. School in England is very different to school in Germany. School starts at 8.40am with registration. There, the form teacher checks if all pupils are there. All English pupils apart from the Sixth Form (the old ones) must wear school uniforms. There are no oral grades and there are some subjects that do not exist in Germany, like Psychology or Creative Writing. During the lunchbreak we ate in the canteen, but you have to queue for a long time first. I never thought that canteen food can be so delicious, but we had chips, a pizza bread bun and spaghetti and it was tasty! After the lunch break, we had another lesson and we saw that the English pupils are allowed to use their laptops in school. In the afternoon some pupils met again to eat fish and chips and to watch an English movie (with German subtitles). Then we all went to bed. It was a great day at school!
            At the weekend, everybody spent some time with their exchange families. Some of us went back to London to do more sightseeing or shopping, others explored Harpenden or went to the beautiful university town Cambridge or to the royal town Windsor, where the Queen sometimes lives. Some of us also went to the cinema, ate some English food or just relaxed a little bit.
            On Monday, we all went to St Albans, a little town close to Harpenden. There we had a treasure hunt, where we had to answer questions about the town. Then we went to the large old cathedral and had some time to go shopping in the city centre. Afterwards we all returned to Sir John Lawes School to eat a very famous dish – scones with jam and clotted cream. Mrs Brown, the English teacher from Harpenden, told us that it is very important in England if you put the jam first or the clotted cream and that people in England can talk about that for a long time. After that we went home and started packing because we had to leave very early on the text day…
            Tuesday was our last day in England, but we flew from Stansted very early in the morning. We all met at 2.15am to say goodbye to our exchange partners, which was sad. But we were also happy to see our families and friends again! We took a last group picture in front of the plane. When we were finally back in Alzey some of us already missed their exchange partners. We all had a great time in England and are very excited when they will come to visit us in Germany at the end of March!
- written by Luisa Feile, Eliah Flick, Anna Frondorf, Marie Hassinger, Marie Lazar, Isabella Marjanovic, Hannah Staudinger, Pia Ueberholz, Emely Weinheimer, Meike Zahn, Mr Unselt and Mr Wagner
Eingestellt von Herr Wagner